Discover Tango with Us
… and much, much more!
Thanks for joining us for some music!
Find out more about the unforgettable characters from
our rollicking history of tango
---
Set List (This is a typical set list… of course sometime we mix it up!)
Apologia Tanguera – composed by Enrique Cadícamo y Rosita Quiroga
Golondrinas – composed by Carlos Gardel / Alfredo Le Pera
La Yumba – composed by Osvaldo Pugliese
Romance de Barrio – composed by Anibal Troilo & Homero Manzi
Oblivion – composed by Astor Piazzolla
Yo Soy María – composed by Astor Piazzolla & Horacio Ferrer
Beso Azul / Ay Ay de Mi / 9 Vidas – composed and performed by Blue Tango Project
SF Tango – composed and performed by Blue Tango Project
Video Clips
Tango in the Movies
Looking for some good tango movies? Have a look at these:
Classic Films Featuring Carlos Gardel
Check out Carlos Gardel in Luces de Buenos Aires, Cuesta Abajo, Tango Bar or El Día que Me Quieras
Contemporary Tango Films
Tango (1998) by Carlos Saura is a beautiful meditation on the passions of tango.
Our Last Tango (2015) is a film about the turbulent life of two great tango dancers, Juan Carlos Copes and María Nieves.
Carlos Gardel
Carlos Gardel (born Charles Romuald Gardès; 11 December 1890 – 24 June 1935) was a French Argentine singer, songwriter, composer and actor, and the most prominent figure in the history of tango. Gardel's baritone voice and the dramatic phrasing of his lyrics made miniature masterpieces of his hundreds of three-minute tango recordings. Together with lyricist and long-time collaborator Alfredo Le Pera, Gardel wrote several classic tangos.
Gardel died in an airplane crash at the height of his career, becoming an archetypal tragic hero mourned throughout Latin America. For many, Gardel embodies the soul of the tango style.
---
Highlights:
Check out his song "Adios Nonino" composed to mark his father's death.
Some Piazzolla albums you should listen to are:
Tango: Zero Hour
La Camorra
Astor Piazzolla
Astor Pantaleón Piazzolla (Spanish pronunciation: [pjaˈsola], Italian pronunciation: [pjatˈtsɔlla]; March 11, 1921 – July 4, 1992) was an Argentine tango composer, bandoneon player, and arranger. His oeuvre revolutionized the traditional tango into a new style termed nuevo tango, incorporating elements from jazz and classical music. A virtuoso bandoneonist, he regularly performed his own compositions with a variety of ensembles.
Born in Argentina, Piazzolla lived with his family in New York City from the age of 4 to 15. He began to play the bandoneon after his father spotted one in a New York pawn shop.[6] In 1934 he met Carlos Gardel, one of the most important figures in the history of tango, and played a cameo role as a paper boy in his movie El día que me quieras.[7] Gardel invited the young bandoneon player to join him on his tour.[8] Much to Piazzolla's dismay, his father decided that he was not old enough to go along.[8] The disappointment of being forbidden to join the tour proved to be fortunate, as it was on this tour in 1935 that Gardel and his entire orchestra perished in a plane crash.[8] In later years, Piazzolla made light of this near miss, joking that if his father had not been so careful, Piazzolla would be playing the harp rather than the bandoneon.[8]
Read more about Astor Piazzolla here: https://en.wikipedia.org/wiki/Astor_Piazzolla
---
Bandoneon
The bandoneon (or bandonion, Spanish: bandoneón) is a type of concertina particularly popular in Argentina and Uruguay. It is an essential instrument in most tango ensembles from the traditional orquesta típica of the 1910s onwards. As with other members of the concertina family, the bandoneon is held between both hands, and by pulling and pushing actions force air through bellows and then routing air through particular reeds as by pressing the instrument's buttons. Bandoneons have a different sound from accordions, because bandoneons do not usually have register switches that are common on accordions. Nevertheless, the tone of the bandoneon can be changed a great deal using varied bellows pressure and overblowing, thus creating potential for expressive playing and diverse timbres.
The Bandonion, so named by the German instrument dealer Heinrich Band (1821–1860), was originally intended as an instrument for religious and popular music of the day, in contrast to its predecessor, German concertina (Konzertina), which had predominantly been used in folk music.[1]:16 Around 1870, German and Italian emigrants and sailors brought the instrument to Argentina, where it was adopted into the nascent genre of tango music, a descendant of the earlier milonga.[2]
By 1910 bandoneons were being produced expressly for the Argentine and Uruguayan markets, with 25,000 shipping to Argentina in 1930 alone. However, declining popularity and the disruption of German manufacturing in World War II led to an end of bandoneon mass-production.
---
María Volonté
María Volonté is an Argentine singer and songwriter who is a Carlos Gardel Prize winner (Argentina's Grammy), a Latin Grammy nominee and member of the Tango Hall of Fame.
María Volonté is a powerful creative force whose "entrancing creative expression" (International Review of Music) has fascinated critics and audiences around the world. Called "the best-kept secret of Argentinian Tango" (Songlines Magazine), Volonté has gathered a fervent international following which keeps her touring constantly.
Dubbed "Tango's shimmering star!" (Global Rhythm), Volonté conquered the world of tango with numerous award-winning CDs. Her current projects explore the fusion of Argentine music with other Latin American rhythms, jazz and the blues.
A singer who combines the "earthiness of Edith Piaf with the sassiness of Eartha Kitt" (Jazz Perspectives), Volonté is also a restless musical innovator who "plays impressive acoustic guitar and is willing to experiment" (The Guardian).
She has shared the stage with Astor Piazzolla's legendary last quintet, recorded duets with trumpter Arturo Sandoval and counts among her many fans Paquito D'Rivera ("her music is a parade of good taste") and Derek Sivers (founder of CD Baby) who included María in the list of artists he was proudest to have released while founding the seminal online music distributor. National Public Radio (NPR) called Volonté's art a "potent brew" – and advised listeners to "consume responsibly."
---
Blue Tango Project
Hailing from the colorful and gritty La Boca neighborhood of Buenos Aires, the María Volonté/Blue Tango Project is a ground-breaking exploration of the emotional and musical crossroads where tango and the blues embrace. It is a collaboration between Argentine Latin Grammy nominee María Volonté and California harmonica player Kevin Carrel Footer.
This globe-trotting duo celebrates the deep spiritual bond that joins tango and the blues, as two musical genres born of desire and lost innocence, many times censored yet always resurgent and speaking directly to our hungry souls.
What the press is saying:
"The best-kept secret of Argentinian tango!"
– Songlines Magazine (UK)
"Maria Volonte is an Argentine singer whose refreshing interpretation of tango stole my heart… Her music is a potent brew. Consume responsibly."
– NPR National Public Radio (USA)
"An entrancing creative expression that is uniquely her own"
– Los Angeles Times (USA)
"Maria Volonté is an intriguingly versatile and original Argentinian singer and songwriter… She has a cool, emotional style, plays impressive acoustic guitar, and is willing to experiment."
— The Guardian (UK)
---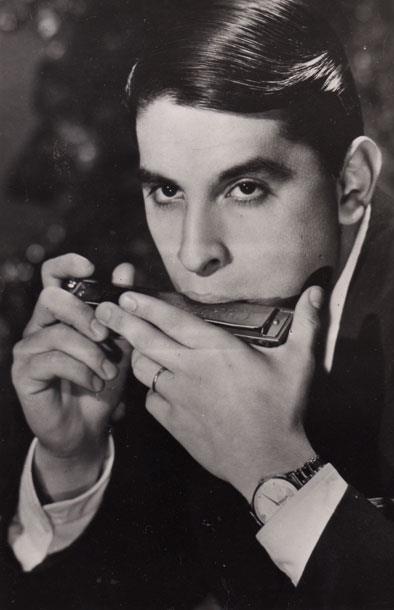 Hugo Díaz
Hugo Díaz transformed tango and the harmonica. He was a virtuoso who made a lasting place in tango for the till-then overlooked possibilities of the harmonica.
More info:
To Listen to: