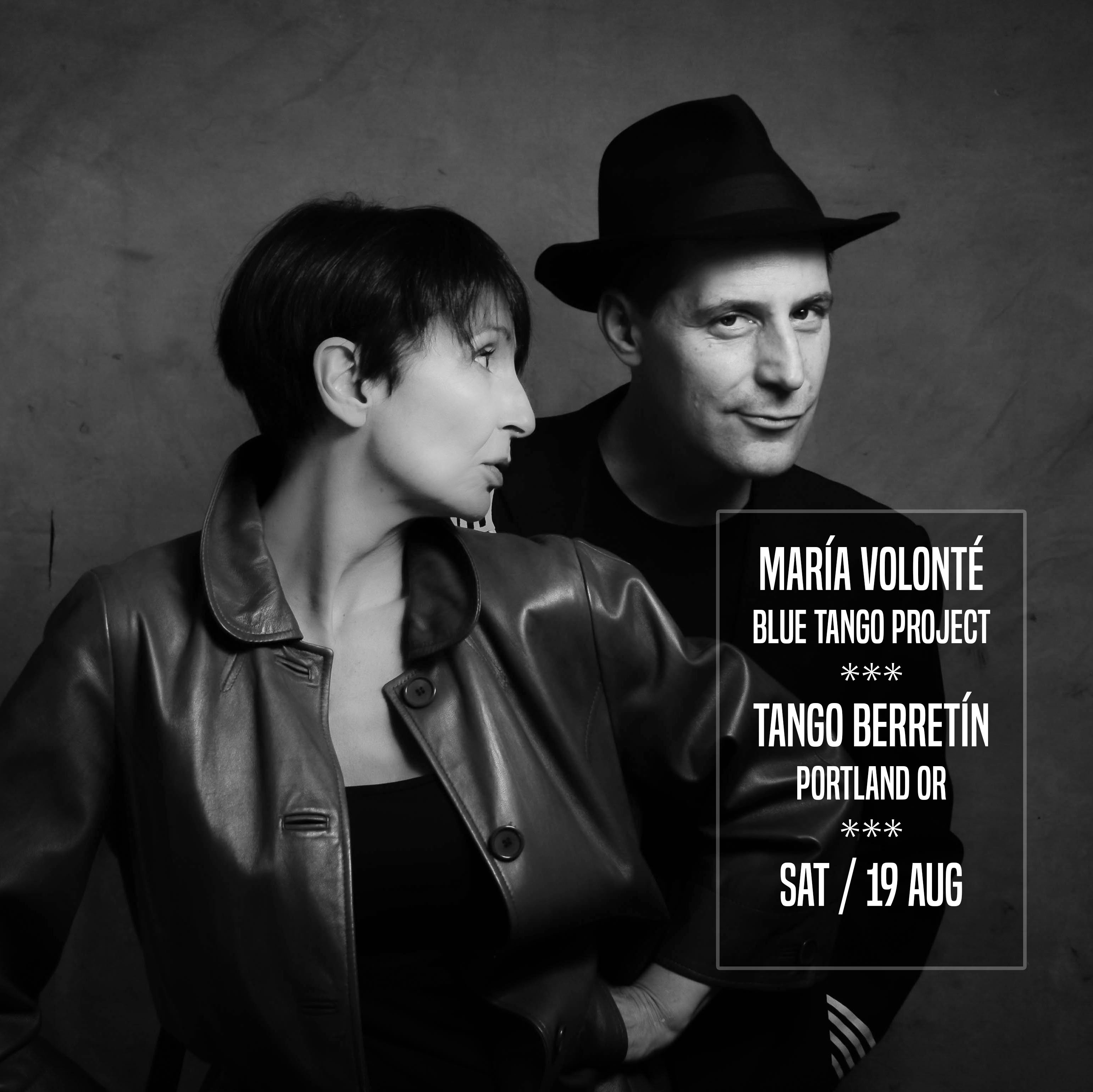 María Volonté: Blue Tango Project
Saturday, 19 August 2017
Tango Berretín
6305 SE Foster Rd.
Portland, Oregon
8pm – Beginning Tango Lesson
9pm – 1am: Tango Dancing
11pm – Live Music with María Volonté: Blue Tango Project
Traditional Argentine milonga with live tandas from Argentine tango diva María Volonté & Kevin Carrel Footer.
About María Volonté: Blue Tango Project:
Hailing from the colorful and gritty La Boca neighborhood of Buenos Aires, Blue Tango Project is a ground-breaking exploration of the emotional and musical crossroads where tango and the blues embrace. It is a collaboration between Argentine Latin Grammy nominee María Volonté and California harmonica player Kevin Carrel Footer.
"The best-kept secret of Argentinian tango!" – Songlines Magazine
"Maria Volonte is an Argentine singer whose refreshing interpretation of tango stole my heart… Her music is a potent brew. Consume responsibly." – NPR National Public Radio
"An entrancing creative expression that is uniquely her own" – Los Angeles Times
This globe-trotting duo celebrates the deep spiritual bond that joins tango and the blues, as two musical genres born in desire and marginality, many times censored yet always resurgent and speaking directly to our hungry souls.
Booked at SXSW and the San Francisco Jazz Festival, nominated for a Latin Grammy and featured on National Public Radio's (NPR) Tiny Desk Concert Series, the María Volonté: Blue Tango Project presents powerful music with intensity and verve.
The duo's adventures in places as diverse as Vancouver, Kosovo or Caracas have marked and nourished their music deeply. Their original songs reflect their embrace of the road as a way of life and their commitment to global music making as a spiritual experience.
The duo has released two albums: "Blue Tango" (2014) and "9 Vidas" (2010). As a solo artist, María Volonté has released a total of nine albums during her career.